Commercial/Residential Cleaning and Disinfectant Application services
At Diamond G Construction, our trained and certified technicians are available to clean and sanitize your office, commercial, and residential environments offering disinfection from pathogens including Sars-Cov-2. If you are seeking peace of mind for you, your employees, your customers, and family regarding public spaces, workstations, and residential areas you oversee, call us today! We use products and methods approved by the EPA for cleaning and sanitization.
Trained, experienced cleaning technicians
Cross-contamination reduction measures
EPA-Approved, Hospital-Grade Chemical Products
Disinfectant application methods appropriate for your space.
Need Commercial/Residential Cleaning or Sanitization Services?
Call Us Today (775) 851-2226.
Keeping your family, staff, and customers safe and healthy should always be a priority. When you team up with the professionals at Diamond G Construction, we can offer peace of mind helping you with commercial/residential disinfectant application services and cleaning.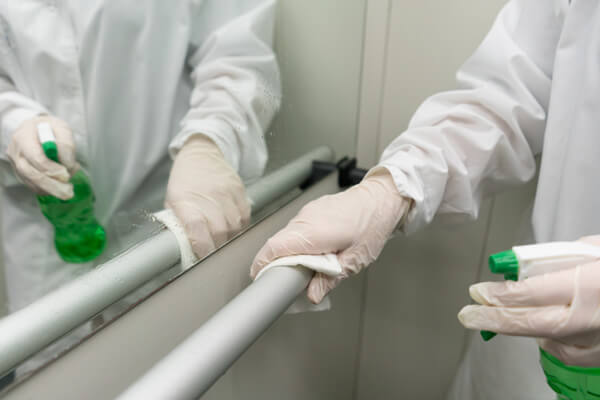 Our Cleaning and Sanitization Process
At Diamond G, we follow a standard sanitization procedure that we will walk you through every step of the way.
Consult
We understand that not all businesses are the same or have the same needs. This is why we tailor our cleaning and sanitization methods to meet your facilities specific needs. Prior to cleaning, we will meet with you to discuss your needs, square footage, what areas need cleaned, and any other concerns you may have.
Clean
We follow a three-phase cleaning process. Our expert deep-clean is initiated using EPA approved, hospital-grade cleaning solutions, and we always adhere to the leading level of cleaning and decontamination standards set by the CDC.
Phase 1 – Mobilization
Employees will mobilize to your business wearing appropriate PPE during all work-related activities.
Phase 2 – Disinfection
Employees will perform a general wipe down of the high touch surfaces that were discussed during your consultation using a botanical, hospital-grade disinfection. After these high contact areas are complete, the same areas will be fogged with a ULV fogger which produces a small micron mist that dries within a few minutes.
Phase 3 – Demobilization
Employees will leave premises, being careful to avoid any sort of cross contamination.
Certify
The final results of the disinfection will be inspected by yourself and the Diamond G site manager to ensure complete and satisfactory results. You'll know a business is certified by the Diamond G Construction certification that we will post in your front window or door. Let your customer, employees, and family know that you're committed to their comfort and security. The Diamond G Construction certification means you can walk in with confidence.